Didion's Talent Show – Friday, May 17th – Click here for sign up sheet and more information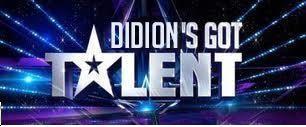 Didion's Talent Show is Friday, May 17th.
SAVE THE DATE!
Didion's Got Talent, our annual school talent show, is Friday, May 17th. It will be preceded by a delicious Spring dinner, so mark your calendar and make an evening of it.
We're looking for ALL KINDS of talent: comedy skits, vaudeville, singing, dancing, martial arts, musical instruments, magic, and more! Solos, Duets, or Groups!
Talent Show Performer Interest Forms (Sign-Ups) can be downloaded here and are available in the main office, from Ms. Chambers or from Mr. Carras. Forms need to be turned in to the office by Wednesday, March 1st.
Auditions will be held on Wednesday, April 3rd & Friday, April 5th.
For more information, contact Nicole Makram: